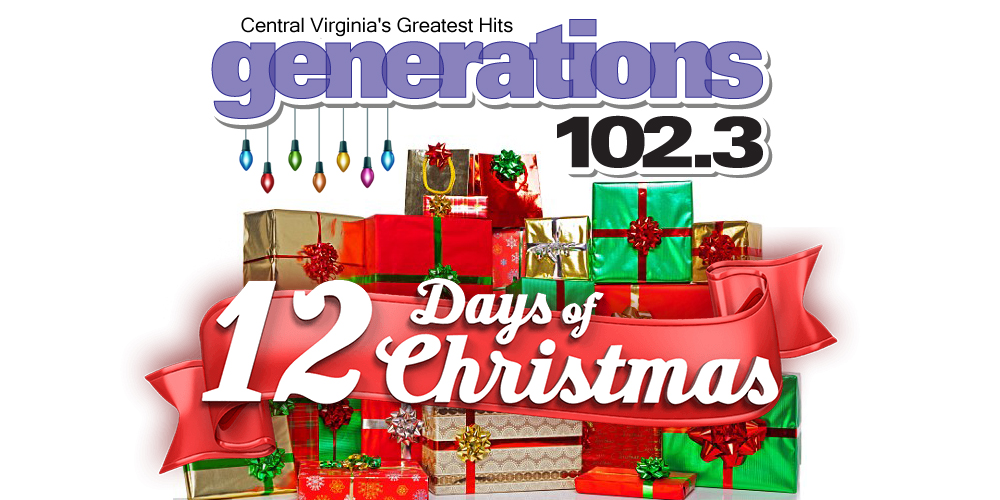 Listen Weekdays  for your chance to pick your stocking with "The 12 Days of Christmas!" Your stocking will have one of the great prizes listed below!  Make sure you check the graphic daily, because if you choose a number that has already been claimed, we will take the next caller! Good luck!
YOUR CHANCE TO PICK 1 OF 12 STOCKINGS TO WIN THINGS LIKE:
---
Small rectangular Sterling Silver Drop Earrings by Bree Richey. $40.00 value  
Gingerich Outdoor Power Specialist
 $125.00 Gift Certificate to be used towards any purchase of product, parts or service awarded.
$50 Gift Certificate towards any Spa Treatment.
$50 Gift Certificate for a Fabulous dining experience at Vivace's!
 $50 Gift Card, it's a Family Thing!
                  $25 gift certificate, Shop at Monticello. Located in the David M. Rubenstein Visitor Center, the Shop at Monticello offers an extraordinary collection of unique and historical items, furniture, home décor, heirloom seeds and plants, books, and more. All purchases support Monticello's dual mission of education and preservation.
                      $25 gift certificate, Monticello Farm Table. Located in the David M. Rubenstein Visitor Center, Monticello Farm Table serves fruits and vegetables grown in Monticello's own farm and gardens, in addition to other sustainably-raised, locally-sourced ingredients from the best of Charlottesville's local food suppliers.
                    Two complimentary Monticello Day Passes. Learn about Thomas Jefferson, the ideas of freedom, and the realities of slavery that made the United States on this guided tour of Monticello's first floor.
 $25 gift certificates to Agape Florist
$25 Gift Card
$25 gift certificates to Big Iron Outdoors
$25 gift certificates to European Wax with makeup bag full of samples
 $25 gift cards to The Albemarle Angler
Are you ready to go on a quest around the planet without leaving Virginia? Journey through the majestic wonders of our planet, ranging from rainforests and deserts to the depths of the sea as you see, touch, and feed more than 1,200 animals along the way at SeaQuest Lynchburg! Feed a shark, pet a stingray, get swarmed by birdies! There are many slippery, slimy, scaly, furry and feathered friends waiting to meet you inside River Ridge Mall!