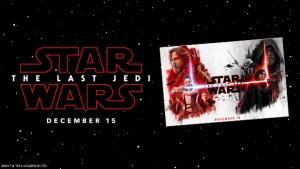 Generations 102 3 wants to take you to a galaxy far far away.
Listen all this week to win tickets to the new Star Wars movie
"The Last Jedi" at the Regal Stonefield Stadium 14 opening night
Friday December 15th at 7 PM.
Yoda Jay Lopez and Storm Trooper Steve Walker will have chances
for you every morning and every afternoon this week – so keep it on
Generations 102 3 and may the (winning) force be with you.