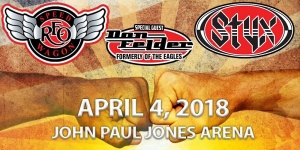 Get ready for a rock and roll triple-header as Generations 102 3 welcomes Styx with REO Speedwagon and special guest Don Felder formerly of the Eagles – April 4th at John Paul Jones Arena.
Reserved seats will go on sale Friday at 10 AM at
Ticketmaster.com.
Listen to Generations all this week for your chance to
win them before you can buy them – every morning this week.
Styx with REO Speedwagon and Don Felder from your concert connection – Generations 102.3.