---
 The Legwarmers Ultimate 80's Tribute Band presented by Generations 102.3 – Your Charlottesville Radio Station returns to The Jefferson Theater on Saturday 6/24th. We have your chance to win tickets to the show. Enter to win below!
Tickets HERE: https://bit.ly/3EIiXRY
---
---
Remember the Eighties? Sure, we all do…but the Legwarmers don't just remember the Eighties – they relive them. With more moves than a Rubik's Cube, the Legwarmers take the stage like it's prom night in a John Hughes movie, a very special episode of "Square Pegs" and the Monsters of Rock Tour – all at once. So remember: this ain't no half-assed cover band, this ain't no disco, this ain't no fooling around – it's the Legwarmers, the Ultimate 80s Tribute Band.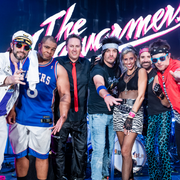 DOORS 8:00 PM
SHOW 9:00 PM